Shenzhen, China (April 11, 2020) – LED screen plays an important role in places like shopping mall, retail store, airport, corporate, cinema, hotel, etc. It usually serves as the DOOH advertising screen and in the meanwhile add some sparks to the overall design in those places.
Since 2011, Uniview LED's products have been exported to over 100 countries and shine at various places and projects. Here are several cases of LED wall for permanent installation.
NIC 3.9 and LED Floor for A TV Project in Switzerland
This is a project supported by Uniview LED. The arched screen was built by NIC series, which featured a high refresh rate to produce flicker-free and smoother images when being recorded. The flexible module of NIC series enabled the screen to be made into various shapes, bringing out more creative designs. The floor screen was highlighted by Uniview LED's LED floor, making the stage more stunning.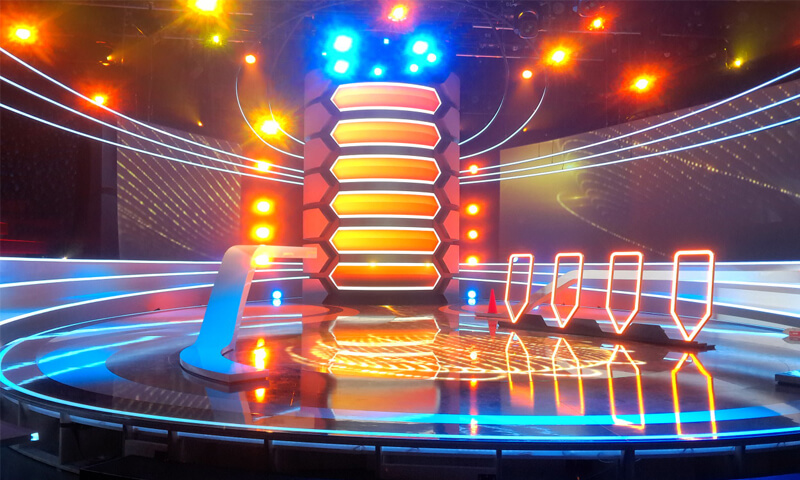 Customized Solution for CAP 3000 – 96.75sqm/P 6.25
Ranked as the eighth-largest shopping centre in France, CAP 3000 is a "core" shopping centre that is currently one of the largest in France.
Uniview LED was glad to offer a customized solution for cap 3000. There's a special, 2.5 million pixel curved screen, measuring almost 100 sqm, installed in the central concourse. 45 sqm P6.25 indoor fixed screen, 6.75 sqm p6.25 arched screen and 45 sqm p6.25 floor screen were opted for this project.
Together with the Augmented Reality technology, visitors of Cap 3000 will be immersed in different 3D environments in which they get to interact with numerous photo-realistic 3D characters such as polar bears, dinosaurs, rhinos, elephants and more. Besides, this large LED screen is also used for some live events and to display information and advertisements.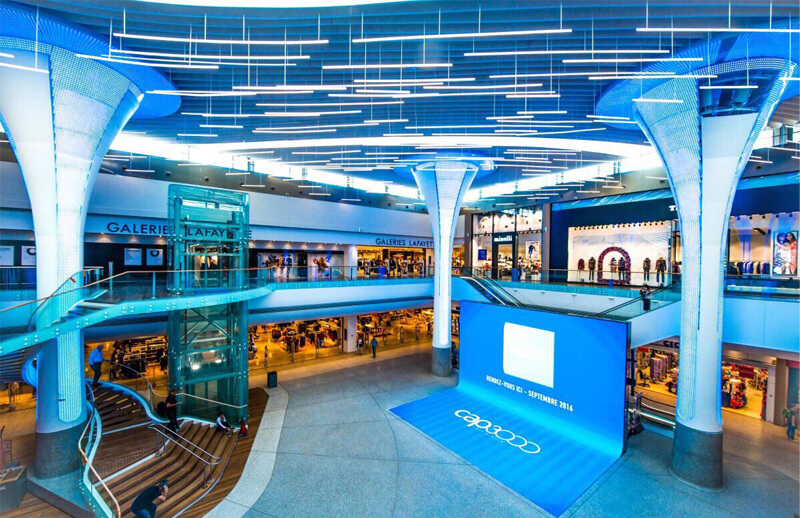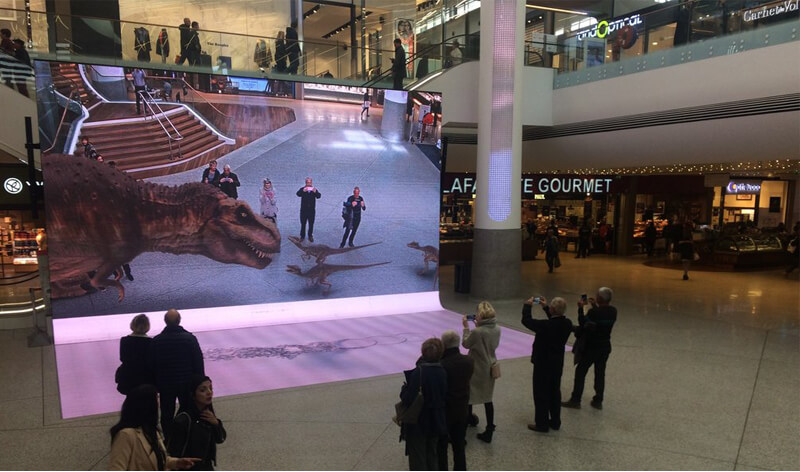 The Palladium World Shopping Mall – 150sqm/P 7.2
The Palladium World Shopping Mall in Bangkok is one of Pratunam's largest complexes.
Right at the center, there's a big LED screen built by Uniview LED, with 150 square meters. For project in shopping mall, high flatness, easy installation and maintenance, wide viewing angle and being anti-glare are required for LED display.