Shenzhen, China (May 29, 2020) – Uniview LED, global leading LED & LCD manufacturer, announced the appointment of Ing. Raffaele Losi as the Business Development Manager for Italy and also other countries in southern Europe. The appointment will be effective from next week.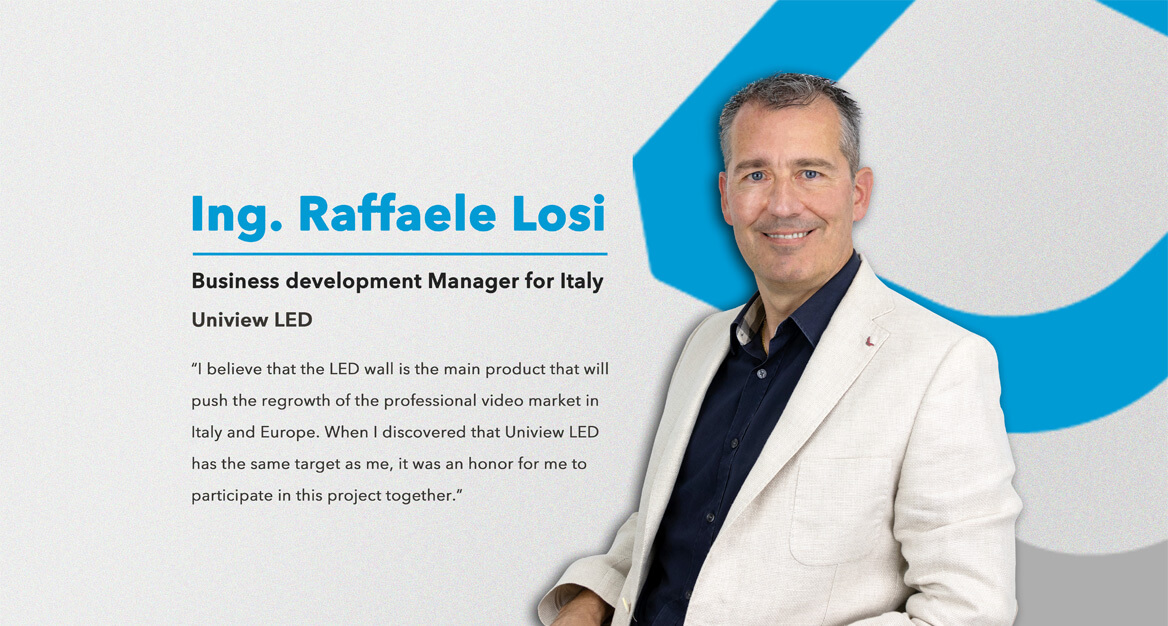 Last years spent as a Business Development Manager for professional audio and video products and as a brand specialist of LED wall, video projectors, monitors, video-conference, video-collaboration, system integration, and with over 10 years in telecommunication company as a Technical and Operations Director, Raffaele's skills and experiences gained over the years enable him to truly understand customer's needs from both sales and technical perspective.
"We are delighted to appoint Raffaele to this critical role in Italy," Said Frank, Sales & Marketing Director of Uniview LED. "The appointment aligns with Uniview LED's long-term strategy to grow its local team in Europe to support customers without language, culture and time limitation."
"I believe that the LED wall is the main product that will push the regrowth of the professional video market in Italy and Europe. When I discovered that Uniview LED has the same target as me, it was an honor for me to participate in this project together and join Alessio Giagnoni (also works for business development in Italian market) in this hard work." Said Raffaele.
About Uniview LED
Shenzhen Uniview LED Co., Ltd., founded in 2011, is one of the global leading LED & LCD display solution providers that is specialized in providing a full-stop service of design, R&D, production and distribution. Based in Shenzhen, Uniview LED covers an area of 8,000 sqm.
Uniview LED now has 4 main product lines, including rental display, fixed display, interactive floor display and stadium display. Uniview LED displays have been widely applied to many projects, from indoor & outdoor stages, to exhibitions, TV stations, advertising billboards, shopping malls, and sport stadiums, etc. At present, our products have been exported to more than 100 countries and regions.